Mitas introduces new versions of SPORT FORCE+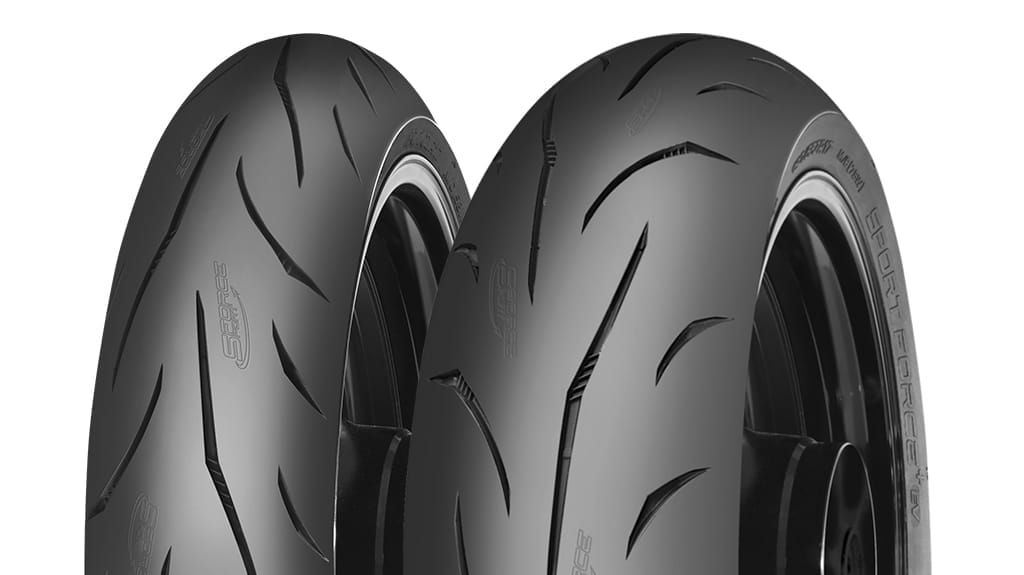 Mitas, part of Trelleborg Group, launches new versions of the popular Mitas SPORT FORCE+ in selected sizes. SPORT FORCE+ EV has a new compound designed for riders of hypersport motorcycles who are looking for a road legal tire for hobby racing, while SPORT FORCE+ RS has a new Racing Soft compound.
"SPORT FORCE+ is a favorite choice of demanding riders who enjoy the grip, precision and dynamic performance of this range. The new "EV" version builds on an already strong platform and takes the tire's performance to the next level," says Gustavo Pinto Teixeira, Vice President Two Wheels and Specialty Tires. "We are extremely proud of the significant improvements introduced over the years on SPORT FORCE+ and these two new versions, "EV" and "RS". We look forward to feedback from our riders over the coming months, as they take to the roads and tracks with our SPORT FORCE+ range."
Designed for very fast, easy, and precise steering, Mitas SPORT FORCE+ EV (meaning Evolution), ensures maximum control in extreme lean angles thanks to its contact area design and materials. Featuring Multi Compound Tread Technology and incorporating completely new compounds, the SPORT FORCE+ EV delivers extremely high grip when cornering and improved performance accelerating out of corners and braking.
Mitas SPORT FORCE+ EV will be available on the market from March 2021 in four sizes: 120/70ZR17 (58W); 180/55ZR17 (73W) ; 190/50ZR17 (73W) ; 190/55ZR17 (75W).
For fast and confident performance, Mitas SPORT FORCE+ RS (meaning Racing Soft), delivers the highest racing performance expected from this type of tire: amazing grip, good slide control and contact feel. The newly developed Racing Soft compound guarantees outstanding performance on dry racetracks at different track and air temperatures.
Mitas SPORT FORCE+ RS will be available on the market from March 2021 initially in two sizes: 110/70ZR17 (54W) and 140/70ZR17 66W.
Download the press release in PDF